Fake Covid-19 testing kits, corona-killing machines on offer on Twitter & Instagram, unapproved herbal products from India also among them | India News
NEW DELHI: From essential oils and herbal concoctions that claim to keep Covid-19 at bay to a USD 6,000 portable device charged by negative ions that can kill coronavirus, counterfeit health products, illegal or unapproved testing kits and purported cures are on offer on popular social media platforms like Twitter and Instagram, leading to a 'cyber syndemic' — a digital contagion combined with a health epidemic — an Indian scientist's team in the US has warned.
In a new study published in the Journal of Medical Internet Research Public Health and Surveillance last week, researchers at the University of California San Diego School of Medicine found two popular platforms — Twitter and Instagram — flooded with counterfeit goods related to Covid-19.
"We found alleged 'immunity boosting kits' being advertised on Twitter. Other products included so-called herbal concoctions and 'antiviral drops' claiming to serve as a remedy for Covid-19. An Indian user had posted on something called 'Nirogmaya NoCorona' — antiviral preventive drops for coronavirus protection. It included hyperlinks to an external e-commerce site where the product could be purchased. Both have been removed since then," Vidya Purushothaman, study co-author and research associate at the UC San Diego School of Medicine, told TOI.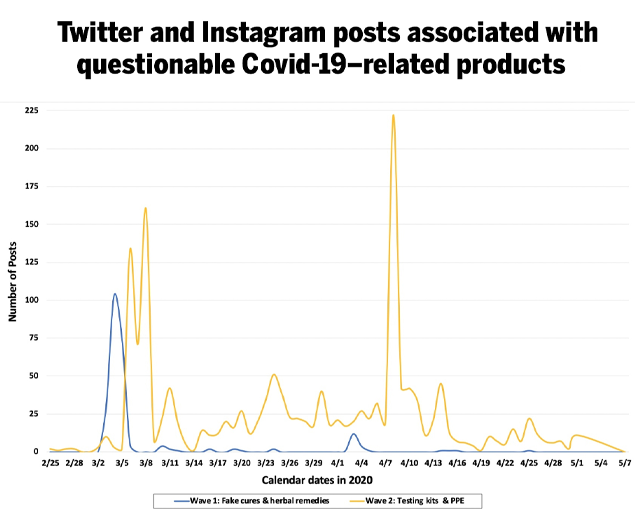 Timothy Mackey, associate adjunct professor and lead author of the study, added that their team detected nearly 2,000 fraudulent postings likely tied to fake Covid-19 health products, financial scams and other consumer risk on the two platforms between March to May 2020 alone.
The researchers identified suspected posts through a combination of Natural Language Processing and machine learning. A number of languages were identified in the descriptive text of selling posts including English, Hindi, Chinese, Japanese and Russian. Sellers of herbal remedies tended to market themselves as doctors or healers with specific reference to Ayurvedic, Eastern or nontraditional medicine.
The presence of non-English language posts indicates that posts targeted social media users across geographies, said the researchers, adding that determining more precise geolocation of users was difficult as very few tweets and Instagram posts had geotagged information available.
According to Mackey, fraudsters targeted social media platforms due to "easy entry points". "Our experience is that the illicit internet marketplace for counterfeit and illegal goods (we've previously published research on illicit online drug sales and wildlife trafficking) is omnichannel and involves multi-level marketing.
Fraudsters and illegal sellers have a very easy entry point in social media platforms where organic and user-generated content can easily be posted, you can use hashtags to curate content for the audiences you want and it is low effort compared to creating an e-commerce selling account or a dark web marketplace listing. And even if their posts are removed, it is easy to create another account and simply repost the same content."
Mackey's team, which continues to conduct online surveillance for counterfeit and fake Covid-19-related products, said the types of products are changing as availability in the legitimate marketplace changes. "For example, we see less Covid-19 testing kits on offer now that there is increased testing capacity. Illegal online pharmacies that require no prescription continue to sell Covid-19 related drugs."
Between March and May, the fake products came in waves — the "first wave" included preventative treatments like herbal remedies that came up immediately after the pandemic's severity became apparent, the study found. This was followed by a much larger "second wave" that included unapproved testing kits and diagnostic products ranging from USD 4 to USD 398. A questionable product described as a "portable hospital" device that claimed to use a negative ion current to treat Covid-19 and other viruses was priced at USD 6,000.
Mackey said a third wave of fake pharmaceutical treatments is now materialising and will worsen when public health officials announce development of an effective vaccine or other therapeutic treatments. "We are in the midst of, what I would like to call, a cyber syndemic. It originates from the term 'syndemic', which generally means when two epidemics are going on at the same time and are interacting with each other. In this context, we are dealing with both an outbreak of Covid-19 from a public health perspective and an outbreak and digital contagion of Covid-19-related cybercrime."
According to researchers, many posts detected by their data collection process had been taken down from the platforms at the time of manual inspection, indicating that platforms may have been self-policing and removing content that violates their existing terms of use. "Yet many other posts remained active and accessible to users after our study was completed, evidencing that more work needs to be done," said Mackey.
Between April and June, Facebook reportedly removed more than 7 million pieces of content on Facebook and Instagram globally for sharing harmful Covid-19 misinformation. A Facebook spokesperson told TOI, "Since January when Covid-19 was declared a public health emergency, we've taken aggressive steps to limit the spread of misinformation about the virus and connect people with reliable information. We remove Covid-19 related misinformation that could contribute to imminent physical harm including posts that make false claims about cures, treatments, the availability of essential services or the location and severity of the outbreak."
Twitter also said it has introduced new labels and warning messages to provide additional context and information on some Tweets containing disputed or misleading information related to Covid-19. "We'll continue to prioritise removing content when it has a clear call to action that could directly pose a risk to people's health or well-being," said a spokesperson.