Stewart's two homers help Orioles stun Yankees 6-1, Rockies rally past Dodgers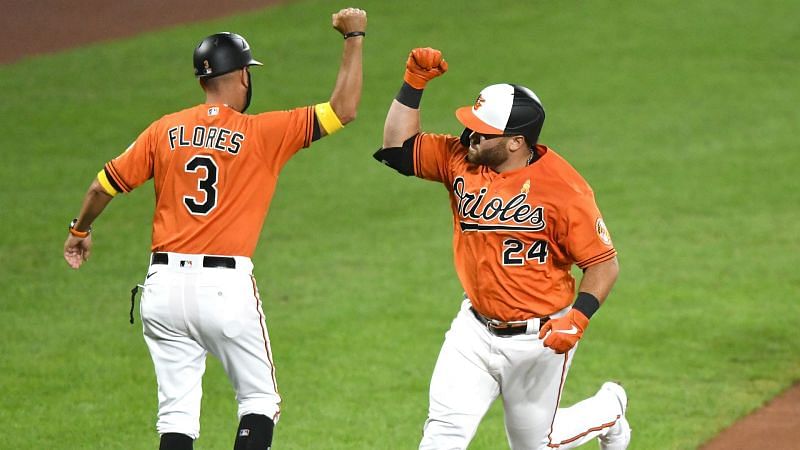 DJ Stewart hit a pair of home runs as the Baltimore Orioles crushed the New York Yankees 6-1 in MLB.
Stewart was 0 for 17 this season before leading off with a homer in a five-run sixth inning to inspire the Orioles on Saturday.
The 26-year-old outfielder homered again in the seventh inning for his first multi-homer game of his career.
Nolan Arenado drove in the tie-breaking run in the ninth inning to lift the Colorado Rockies to a 5-2 victory at the MLB-leading Los Angeles Dodgers.
Charlie Blackmon homered, doubled and scored two runs for the rallying Rockies, who emerged triumphant at Dodger Stadium for just the second time in 19 games.
The result snapped the Dodgers' six-game winning streak and run of 11 consecutive victories at Dodger Stadium.
Acuna makes Braves history
Ronald Acuna Jr. set a franchise record after hitting his 18th career lead-off homer in the Atlanta Braves' 10-4 loss to World Series champions the Washington Nationals. He eclipsed Felipe Alou's 17 lead-off home runs for the Braves from 1964 to 1969.
The Miami Marlins snapped a nine-game skid against the Tampa Bay Rays by upstaging the American League (AL) East leaders 7-3 behind Sandy Alcantara's solid performance. Alcantara allowed one run over six innings.
Cole crumbles
Yankees ace Gerrit Cole had a sixth inning to forget. Cole had been cruising until conceding five runs. A high-profile arrival in New York, Cole had won his first four decisions but has since lost three straight starts.
Madison Bumgarner's return to San Francisco did not go according to plan. In his first appearance against former team the Giants, the Arizona Diamondbacks ace allowed two earned runs on three hits in four innings in a 4-3 loss. Bumgarner also struck out two and walked a pair.
Trout sets franchise record
Mike Trout set a franchise record with his 300th career home run in game one of the Los Angeles Angels' doubleheader against the Houston Astros. The three-time AL MVP surpassed Tim Salmon.
— Los Angeles Angels (@Angels) September 6, 2020
Saturday's results
Oakland Athletics 8-4 San Diego Padres
St Louis Cardinals 4-2 Chicago Cubs
St Louis Cardinals 5-1 Chicago Cubs
Miami Marlins 7-3 Tampa Bay Rays
Cincinnati Reds 6-1 Pittsburgh Pirates
Chicago White Sox 5-3 Kansas City Royals
Los Angeles Angels 10-9 Houston Astros
Los Angeles Angels 7-6 Houston Astros
Washington Nationals 10-4 Atlanta Braves
New York Mets 5-1 Philadelphia Phillies
Minnesota Twins 4-3 Detroit Tigers
Cleveland Indians 4-3 Milwaukee Brewers
Boston Red Sox 9-8 Toronto Blue Jays
Baltimore Orioles 6-1 New York Yankees
Seattle Mariners 5-3 Texas Rangers
Colorado Rockies 5-2 Los Angeles Dodgers
San Francisco Giants 4-3 Arizona Diamondbacks
Rockies at Dodgers
The Dodgers (30-11) will look to bounce back when they send Julio Urias to the mound on Sunday. The Rockies (19-20) counter with Ryan Castellani.
Published 06 Sep 2020, 12:12 IST